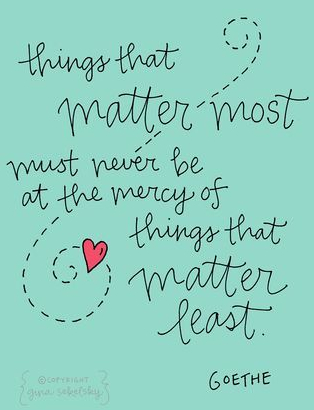 I may have been a fool in March, but refuse to be an April Fool. No joke. The tail is wagging the dog in Michelle Land, and of course, the tail is my computer addiction and social media. Bear with me. I think I can pull this thing together before the end.
Monday a bottle of water took a spill on my laptop. I had to (almost) go cold turkey without my "device fix," forcing me to sing the praises of iPads and phones. You know my struggles, and I had to wonder, was it irony, justice or both?
Then, blog reader, Amy brought to my attention the time requirements of social media and how it might contribute to my "addiction." True that…but we can't live sans electronic devices, especially if we're using them for business. I began to consider I could be working smarter. Maybe, I could take a page out of my consulting playbook and implement the Pareto Principle and some time management techniques on my own bad self. Seems doable.
Finally, yesterday I had a conversation with a dear chum about friends. Seems most of us have our close friends, our garden variety friends, acquaintances and strangers. Our inner circle of friends know us the best and support us the most (click to Tweet). They are to be valued above all else.
Then, I realized….
When it comes to social media, especially Facebook, many of us have lots of "friends." Being that they're friends, I've made a habit of getting to know almost all of them…like you would with good friends. I've met several people who live in cities different from my own, in person, and it's been a blessing because they're delightful. But, lately I'm beginning to feel the weight of focusing energy too many different ways. On Facebook we're bombarded with family deaths, friends facing health Continue reading "No April Fool"