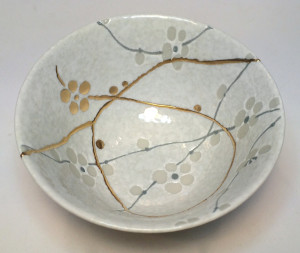 I love the look of Kintsugi. You know, the Japanese pottery with the intentionally decorated crack in it? The ceramic vessels have an incredible, gold streak adorning them, boasting their history and celebrating their imperfections.
People should be more like that.
There's a theme that keeps popping up this week – the quest for perfection and the almost impossibility of attaining it. Some people believe it's a "go-nogo gauge." Whatever it is –their life, their work, their children, their relationships – it's either perfect or a fail. That may be true if you're talking manufacturing tolerances for pacemakers, but in most things…no.
An artist friend is preparing for a solo show and can't seem to get his work "perfect." I wonder why he tries so very hard. What I like best about his work is the interesting, varying, marks that make it unique. Some would call them imperfections – I just call them interesting. It's what makes the work breathtaking.
I've yet to trust anything that I perceive as perfect. (click to Tweet). For me, that sort of glossed over, mass-production, lipstick, superficial crap is just not worth a second look. It's esthetically unsettling. Show me some drips and bubbles and blemishes…there we go! And, if we're talking about someone's character or past, I have to wonder if those people who can do no wrong have plans to run for public office. I prefer people with a history…a couple unique cracks. But, maybe that's just me. Continue reading "You're Cracked – The Kintsugi of You"