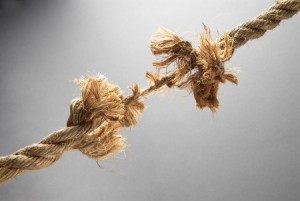 The Unravelment
It hasn't happened in a while and doesn't happen often, but the other day, I came unraveled I'm a frayed.
I like to think I can steer my own ship, but I was taking on water, so put out an  SOS to a friend. Friends are wonderful for such things, but make sure you have a level-headed confidante, not one that is a little dinghy….so sorry, I couldn't help it.
I guess I should define unravelment for you, since it's apparently a new word; as a matter of fact, I just created it. Wouldn't it be cool if Merriam- Webster put it in the book for 2017? Write to them!
Un-rav-el-ment – (v.) – The act of coming unhinged by emotionally reacting to things that could be true or could happen. The awfulizing, ruminating, and visceral reaction of things fabricated in one's mind without factual proof of existence.
Do you know this state of being? I'm going out on a limb here and guessing we've all done it and I'm not alone and bat-shit crazy. Continue reading "The Unravelment"