(I'm on summer vacation! These posts are re-posts. I have discovered a need to re-fill my creative cup. Looking forward to bringing you new and improved posts in the fall. I hope you enjoy these selected writings! Search topics of interest on my site for more related articles.)
"Every giant redwood was once a seedling. They don't get to skip that part." –  Sue Fitzmaurice  (click to Tweet)
There's a recurring theme lately. People are in transition. Life is full of cycles and we're sometimes called upon to reinvent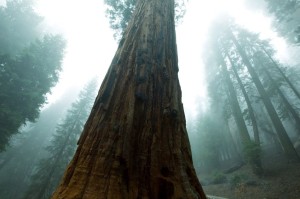 ourselves. This is not necessarily a bad thing, it can lead to growth, breathe life into our dreams, be a catalyst for positive change…but let's face it….it's more than terrifying to be a seedling.
You. Don't. Get. To. Skip. That. Part.
Seedlings are itty bitty small in a big, big world. Seedlings get stepped on, drowned, and their tender little stems are pickings for things like…well…wild pigs. Seedlings are vulnerable. Not all seedlings make it but they try, because  the prospect of being a giant Sequoia is quite enticing. Sequoias are strong, long-lived and have a fabulous penthouse view.
I've had a fairly varied and interesting past. (Notice I did NOT say "colourful.") Every decade has brought transitions – new places, new relationships and sometimes, new careers. Interestingly, what was learned from the old situations bolted onto the new transitions quite nicely, kind of like Legos. Just because we leave a job or relationship behind doesn't mean the skills and knowledge we have aren't transferrable – THEY ARE!
I will tell you a secret. Often, during transition, there is a long expanse of time that is the "uncomfortable middle." (click to Tweet) It is not the creamy, fluffy, goodness. This is the place where you lack direction, uncertainty becomes a way of life, the answer or direction often does not reveal itself as quickly as our fast-food appetites would like. This is not a happy place, but a place of exploration, possibilities and change. It is an uncomfortable crevasse. It's the very thing that can send you running and screaming back to the comfort…back to the known. To get past the middle you need a serious dose of courage. You have to trust the process, your God and your gut. Continue reading "The Middle"