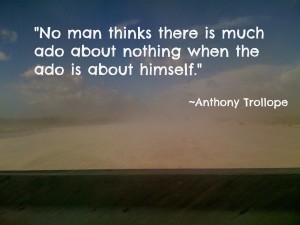 I was exhausted last week and I'm still exhausted. It sounds so trite and whiney and passé….but, its true. Hmmmmmffffff!
I like to believe I've learned a few things in my life, one of them being the benefit of balanced living, but when opportunity knocks – you should probably answer the door. And, when you say you're going to do something, you'd better darned tootin' do it – especially if you've made that commitment to someone else. Between the two, a person ends up…well…busy.
Lucky for me, opportunity's been beating down my door lately…and for that, I am extremely grateful. Also, lucky for me, some people value whatever "that thing" is I have to offer, so they request assistance from time to time. The challenge becomes how to take advantage of cool things that come my way, while still trying to maintain some semblance of balance. I have to say THIS to balance:
"When you depart from me sorrow abides and happiness takes his leave."                                                                                                                                                                                                      
                                                                             ~William Shakespeare
Oh, and gratitude…let's not forget that. Gratitude may (and should) be the MAIN focus of it all.
I'm over-committed; I should be committed. (click to Tweet) Continue reading "Much Ado About Much To Do"