The Business of Art
If you're an artist, chances are you could use a survival guide. After all,  few art schools have a "business of art" program.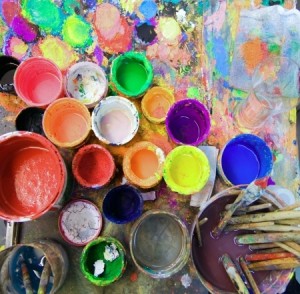 Here are some of my most popular posts with resources for building and supporting a healthy art business. If you're looking for behavioural resources, like Time Management and Decluttering – check them out at my page The Art of Life
Garden Party – Why Sometimes Artists Just Need to Let Go and Embrace the Mad, Creative Life
Series-ous Directions – The Advantage of Working in a Series
Walking the Tightrope – Balancing Your Routine and Getting Out of a Rut
Hangin' With the Herd and Drinkin' With Baboons – Finding Your Creative Tribe
Bowl 'Em Over – Be Easy to Buy From
Filling The Solo Cup – Tips for Working Alone
Who's Your Daddy? – Championing Your Own Art Career
It's Not Always A Masterpiece – Sometimes Our Art Just Stinks
Open Studios – Tips for Making it a Successful Event
Make it A STATEMENT – Writing Your Artist Statement
Command the Brand – Branding Your Artwork in an Authentic Way
Souler Powered – How Do You Tap Into Your Creativity?
Please feel free to peruse these posts and more – they're indexed in the sidebar at the left. If you have specific questions or ideas for topics, feel free to send me a note – good ideas come from diverse thinking.
If you'd like to have help with a specific project or issue, you can search the topic in the search bar and get all related blog posts.
To see the latest, visit the blog!