Open Studio? Do Some Work to Make it Work!
27 Friday Sep 2013
Voyeur and art enthusiast that I am, I've always enjoyed open studio tours. This past weekend, I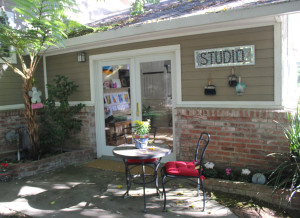 hosted my first one and, of course, I wanted it to be a success. I tried to keep an open mind when planning the event and think of some creative ways to produce good results. Since I'm a business consultant and an occasional party hostess, I applied that know-how to my event. I felt it went quite well, so I'll share some tips as well as areas I'll focus on improving next time.
Sign up early  – Read EVERYTHING the hosting organization sends you.  Our open studio tour was curated through CCAS – Center for Contemporary Arts, Sacramento. This organization is great with branding, marketing and creating reasonable and detailed guidelines for their artists. They had over 130 artists participate in the tours over 2 consecutive weekends. Since I was a newbie, I fell into line, read the communications and followed their wise guidelines. Sir, YES, SIR!
Work with other artists in your vicinity – I realized my studio is not in a high traffic area. To put it bluntly, I'm an outlier. To make the effort worthwhile, I contacted a group of artists nearby and suggested we meet to coordinate our marketing and PR efforts. This was an important step that led to increased success for all of us. The team members all had different strengths, we leveraged those and our efforts paid off with more traffic and sales. Everyone  I worked with was incredible. I made new friends!
Write a press release – Submit it to community calendars of publications in your area and submit it to local papers. We were fortunate to have photos of our work and our artist statements published in a local paper.
Provide written materials to the public before and at your opening – CCAS provides lovely, professional guides with maps for artists to distribute. Many artists aren't natural marketers, but passing out these guides, postcards and other professionally done materials raises community awareness. Local merchants were happy to help. Send "Save the Date" cards. Be sure to include dates, times and maps. Notice, I keep bolding the word maps. Maps. Maps. Maps.
Use social media to promote your event – Broadcast the event through social media channels. Don't drive people crazy…but mention it early and send a few consecutive reminders as the event date approaches. It's your event, so naturally, it's a big deal to you…other people may be more apt to forget, so gently remind them. Also take advantage of e-mail by sending your subscriber list an early announcement and a couple reminders as the date approaches. You may also use regular mail for your personal postcards that include, you got it, maps.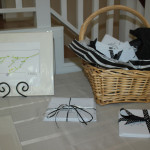 Prepare the materials you will be offering for sale – For original works, don't wait until the event is imminent to begin creating, you don't need the stress! Need some time management tips? If you "Join the Tribe" by signing up for updates on my sidebar, that advice is this month's free gift! Give yourself plenty of lead time to get giclees, prints, greeting cards, business cards and other materials printed and organized. Allow plenty of time if you decide to have your work professionally photographed. Make sure product quality is good. Your reputation is on the line.
Offer multiple price points –  Don't be disappointed if people don't buy original work. Offer items at various price points to suit everyone's budget. Greeting cards, totes and other items featuring images of your favourite works, giclee prints and original art in various sizes are good options. Offer something for everyone.
Be easy to buy from – Make the purchasing process seamless. For more on this check here. Make sure you have change, receipt pads and Square or Paypal processing ready to go so you can handle debit and credit cards! Keep it organized. It's a good idea to take inventory before and after the event or use your gallery management software.
Clean your space! – Don't open the doors and invite people in to your disarray! That is RUDE! Stage your work and make your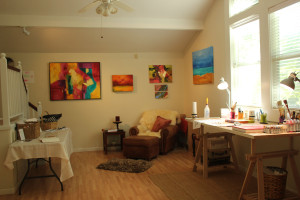 studio presentable. Offer a demonstration so you can teach people something new. For my opening I had a hands-on project inviting people to nip and place  mosaic tile. I teach workshops in beginning mosaics, so participants were able to determine their level of interest and join a sign up sheet!
Know who's coming – Have a registry available and encourage visitors to sign it. It's a good idea to find out why they stopped by. How did they hear about you? Knowing what brought you visitors helps you plan a strategy for getting even more next time.
SIGNAGE, SIGNAGE, SIGNAGE! – Have signage that clearly directs people to the studio. Start at main arteries and work your way in to your location. You want to be easy to find.
Warm it up – Provide simple, yummy refreshments and consider putting them toward the end of the trail so all your work will be viewed. Let people know they are there. Play appropriate music, greet people warmly. Be available to answer questions or tell the background story of your work. It's a good idea to have a wingman in case you get crazy busy. This person can greet guests, answer simple questions, process sales or help get additional items you may need. My husband is my wingman and he is awesome. Sweetheart, if you're reading, you're awesome!
Take photographs – Chronicle the event. This was a fail-point for me. I didn't take enough pictures of the activity, although I had photos of the work, the space and some great photos with visitors.
Express gratitude – Thank people for stopping by. Send thank you notes to your collectors after the event. Be grateful for every visitor that stopped by, whether they stayed and purchased work or not. They took THEIR time to see YOUR work. Grateful. 
Evaluate – After the event remember the steps you took. Do you feel successful? What could you have done to improve traffic, sales or the customer experience? Make notes and remember, be patient. It takes time to build a clientele. Next time is another opportunity to do it even better!
I hope my tips are helpful to you. If there's an activity you do that produces good results, feel free to share it with us in a blog comment.
May you be creative in all endeavors!

Michelle Andres is a coach, writer and artist who nudges, nay, shoves creatives in the direction of their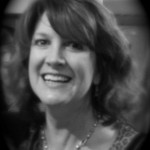 dreams by helping them improve productivity teaching them to get out of their own way.
Follow her on Facebook on Twitter
For a free gift that will help you boost personal productivity "Join the Tribe" and subscribe to this blog!