Lightening the Load
06 Friday Nov 2015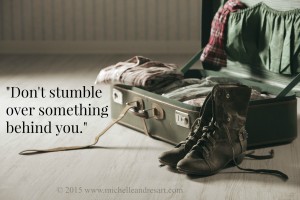 There's been something on my mind lately. It has to do with lightening the load, letting the past go, forgiveness. Basically, it's about not dragging your baggage behind you…forever.
I've wanted to write about it, but realized I've written something similar before and I don't want to be redundant. Let me repeat that, I don't want to be redundant.
Yet, I realize, life is a spiritual practice. Truly, it is.
Sometimes, I find myself repeating the same lessons over again. I suppose it's either because I haven't fully learned them, or perhaps I just have a short memory. Did I ever tell you that? Does it happen to you, too? Which, you ask? Whichever.
Anyway, lately I've been shedding stuff. You'll remember I let go of the stuff with my neighbor. I've also let go of some past relationship baggage – where I'd felt wronged. Maybe, rather than feeling we've been wronged we should feel we've been "informed." Seems easier on the soul. (click to Tweet)
I'm not sure what triggers that moment when we choose to drop the load and move forward. It's strange, but we drag it behind us – the stories, the wrongs – sometimes for a long, looooong, time. They begin to feel like part of us, this extra weight. Maybe eventually we don't even notice it. These things become part of our identity.
Maybe that's why we refuse to let them go. We think things like, if I wasn't a "victim" of so and so, who would I be? If I hadn't had that bad employment experience, who would I be? If I didn't have that difficult relationship with that awful person, who I make wrong so I can be okay being me, who would I be? I'm not sure exactly who I'd be, but I'm sure of WHAT I'd would be….lighter. I'm sure I'm okay without the bags.
Seems some of the bags I carry aren't even my own; they're the bags of those evil twins, judgment and expectation; the twins who steal our levity, our joy, our liberation. They keep us in the world of our stories, which may or may not be true…but who really cares? [Tweet "Time to dump the bags, only rookies carry other people's bags, anyhow."]
So, as I move ahead, I thought I'd share my inner-ramblings with you. Because, while I'm a bit crazy, I'm no more or less crazy than you are… and you've probably carried some bags, too. I think you'll find, if you put down the bags, the colours are more vivid, the heart is lighter, life is sweeter. So….
Check your bags,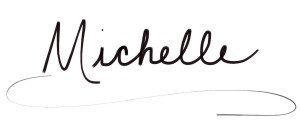 Michelle Andres is a writer and artist. She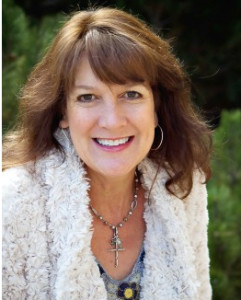 writes this blog to share tips for a well-lived life and finely run art business…just for you!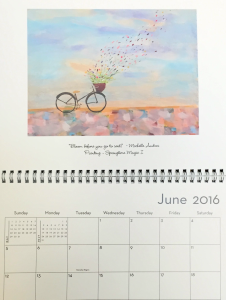 The "2016 Art and Inspiration Calendars" are HERE!!! Buy one for you and one for friend while I still have some in stock! Each month features a painting and quote from the blog. The cost is $20 plus a shipping fee of $3.99 or they can be picked up in my R. Street Studio. 12 months of art and inspiration!!! You can order them at the bottom of my art page (see the tab at the top). 
Find Michelle on Facebook or Twitter or Instagram
For a free gift that will help you boost personal productivity "Join the Tribe" and subscribe to this blog (Over there on the left sidebar)!