A Gypsy Soul
26 Friday Sep 2014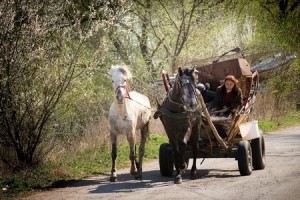 I have a gypsy soul.
I want to live in Virginia…Charlottesville to be exact. It boasts historical, white-spired buildings, beauty abound and some nice culture.
I can also picture myself in Paris, sipping espresso at a café. I'd write in my journal and nosh on a croissant in the morning…take in a museum in the afternoon…paint until the sun rose. I'd have stimulating conversations with my circle of friends at the brasserie.
Perhaps Carmel by the Sea would be nice. It may be a little cool for my tastes, but the flowers stay fresh year round, there are plenty of specialty shops, boutiques, good art, divine food, and they do have a few sunny days. Hmmm…romance.
Maybe Sedona, Arizona is the place for me. Clear air, great light, red rock views. Those vortexes buzz with positive, "can do" energy and emit peacefully, radiating vibes. All. Day. Long.
Come to think of it, New York City has a lot to offer. The art scene is vibrant in the Big Apple…well, everything's bigger in the Big Apple…including opportunities.
The grass is always

greener.
I spend the bulk of my days in California. Northern California where in a little over an hour I can be in mountains…or at the sea. The weather is superb and my city is lush, green and filled with wonderful people. I have good friends here. In the summer it can get too hot, and in the winter, dangerously foggy. Taxes are going through the roof and the legislature is fit for the asylum. But, it's close to Napa Valley where there is an abundance of good wine. It's hard to find fault with good wine.
Who's fit for the asylum?
For a few years now, I've been searching for my place. This is quite obviously a "spoiled brat, first world problem." I'm a California native and lived here my entire life. I've seen other parts of the world…for work and some for pleasure. But, I've got an itch – and no amount of calamine lotion is going to relieve it…but a little change of mind might.
This world is filled with so many splendid, beautiful, inspirational places. So many of us visit a place and want to stay forever…
[Tweet "There are so many places and just one forever."]

 I can't be everyplace all at once…but I can bloom where I am planted. (click to Tweet)
And, if I'm going to bloom, I should probably do it before I go to seed.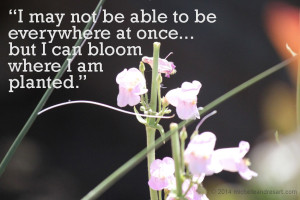 Space and time. They create curious places to see, events and times to ponder. The fact it's impossible to explore every nook and cranny, every time past, present and future, that curiosity stokes a sense of wonder.
It may not be about finding your place, but sampling lots of places and, like a honey bee, gathering the pollen and taking it back to the hive. What we can't collect, we are invited to imagine. Our "place" can be anywhere. What makes it special is what we bring to it….what we give. (click to Tweet). Part of the joy is learning the new.
We like to think the grass is greener, but I think, in the final analysis, wherever it is, grass is… grass.
Simmer Down, Sweet Gypsy Soul, and Bloom Where You Are Planted,

Michelle Andres is a writer, artist and coach who nudges, nay, shoves, her clients in the direction of their dreams, helping them to overcome non-productive behaviours and enjoy more success in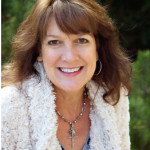 their lives.
             Follow her on Facebook and on Twitter
            For a free gift that will help you boost personal productivity "Join the Tribe" and      subscribe to this blog!