Make a Statement – Writing the Artist's Statement
25 Friday Oct 2013
Tags
Art business, art coaching, artist statement, artist's statement, Artists, Authenticity, creatives, Goal Setting, painters, Productive Artists, Professional Development, sculptors, writing artist's statement
Share it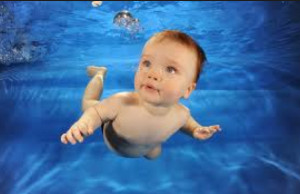 Disclaimer: No babies were eaten by sharks in the writing of this blogpost. 
Does the thought of writing an artist's statement make you run for high ground? Sometimes, visual geniuses, like you, will not take swimmingly to the "fodder of word water." For some, they find it cold and uninviting.
Artist's statements are short statements written about your body of work. They demonstrate and communicate your deliberate intention when creating the work and give the viewer some insight into you, your process and the work they are viewing. It is simply what, why and how you do what you do.  None of it is too in depth. It is a concise statement – only one to two paragraphs – so people can feel like they know something about you and understand a bit about your work and the intention you had when creating it. The artist's statement should be designed to make people want to see more of your work (click to Tweet).
To write a successful statement, you need to stay out of shark infested waters. The artist's statement should not sound pseudo intellectual. Don't get full of yourself and try to talk over people's heads – it's rude. Keep controversial statements and biographical details OUT of your artist's statement. We have bios, resumes and statements of work to cover those bases. I KNOW, now it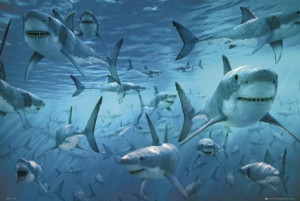 sounds like you're writing a book, right? Nope. This is just an artist's statement, but it's the foundation of your work, personal vision and business. The artist's statement is a blueprint for you to clarify your own goals and intentions and share them with galleries, museums, potential collectors, viewers and other artists – all of which are potential business partners!

Artist's statements are fluid. They evolve over your career and are revised as you and your work grow. Their evolution serves as a fantastic, historical document of your career…oooh, that sounds scary. I shouldn't have put that in…who wants to write one now? Don't recoil! Here are some floatation tips that will have you free-styling in no time:
Your first draft is your first draft – it's gesso – don't sweat it

(click to Tweet)

Write the statement in first person. It's about you, so use the pronoun "I"
When writing, focus on your current body of work
This statement is a "small work" with BIG impact. 2 paragraphs should do it justice. If you're really good, one paragraph can nail it. Grab the reader's attention from the beginning.
Stick to what you do, how you do it and why. It's about you and your artistic process.
After the first draft take some time away from your statement. Your fresh eyes will be an asset later.
Return to the statement to fill it with high impact words and prune the unnecessary details.
Ask people you trust to look it over for you. Make sure your spelling, grammar and context are good. If you're really having trouble, get professional help. Many art organizations teach professional development classes.  I know, because I teach some of those classes.
Revisit your artist's statement and revise it at least once a year or more often, as needed.
Include a picture. Of yourself. People like to see the artist.
So, go ahead, write your artist statement…just the first draft. Next week I'm adding to this foundational principle, so check again, or subscribe to the blog so you can learn how to maximize your branding.
Don't Bail! Make a Statement!

Michelle Andres is a coach, writer and artist who nudges, nay, shoves creatives in the direction of their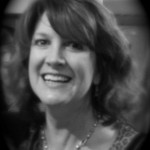 dreams by helping them improve productivity by helping them form good behaviours and eliminating poor ones. Follow her on Facebook on Twitter
For a free gift that will help you boost personal productivity "Join the Tribe" and subscribe to this blog!