My Art
Michelle Andres – Artist Statement
Non-representational abstract work does not so much tell a story to us; as it reminds us of our own stories. We may remember a specific time, an experience, a feeling, or the "stimulus" may tap into us at the moment of viewing. I strive for that connection with the viewer in my work.
I confront the canvas with a basic idea, but am not entirely sure what the outcome will be. I appreciate that the creative process can continually surprise and challenge me. I use layers of paint and mark-making to achieve my final results. Sometimes, I'll make marks with ink, graphite or pastels. I manipulate the paint to create interest and explore the overall concept I'm studying.
As I work, I find the piece reveals itself through the process of "getting known," much in the same way you learn new people you meet. The "unfolding" is one of discovery, joyful expression and wonder, all qualities I welcome into my life.
Michelle Andres has studied at the Institute of Mosaic Art in Oakland, CA, as well with award winning, International painters including Robert Burridge, Pat Lambrecht-Hould, Katherine Chang –Liu, Topher Schinck and Skip Lawrence. Her work has been exhibited in galleries in California. Her award winning painting, "Kites" placed 3rd in the prestigious Crocker-Kingsley Art Competition and has been displayed in the Crocker Art Museum in Sacramento, CA.
If you have any questions about the artwork, or would like to inquire about a commission, please contact me through this website.
Michelle's  public studio is located at:
ARTHOUSE on R.
1021 R. Street – Upstairs
Sacramento, CA
Each First Friday and Second Saturday of the month, the studio is open to the public for the Downtown Sacramento Art Walk  and First Friday Art Walk.  There are 20 participating resident artists at ARTHOUSE.
You can also join me at my Facebook Art Page or Follow me on Instagram. 
To purchase a "2016 Art and Inspiration" calendar, use the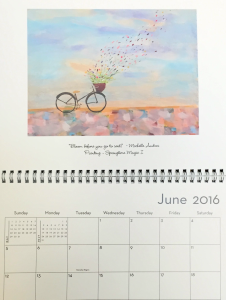 button below. Cost is $20 for a calendar and $3.99 for shipping and handling. Let me know your address and I'll mail them to you!